Coastal Farmhouse Kitchen Remodel
Testimonial
Summary
For this Kitchen Remodel in Corvallis, Oregon, we transformed a dark and outdated space into a bright, functional kitchen, perfectly suited for cooking, baking and entertaining guests. By reworking the kitchen and laundry layout, installing new windows, crafting custom cabinetry and upgrading finishes, we not only enhanced the usability of the kitchen but also elevated its aesthetics, ensuring its charm for years to come.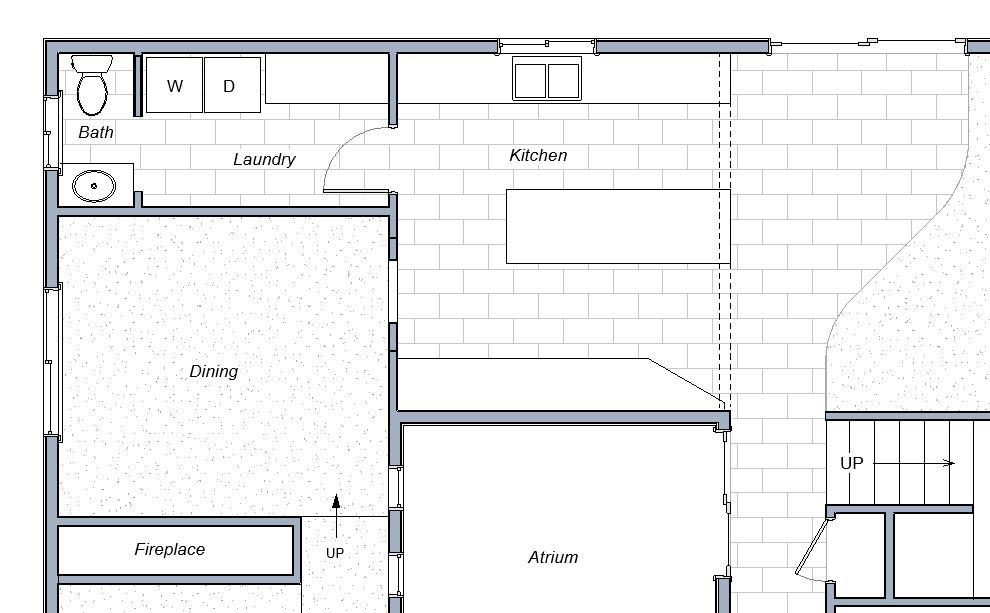 Client Needs
When John and Leslie approached us, they faced the challenge of a dark, outdated kitchen in need of an overhaul to meet their needs as a family. The incandescent fixtures hung low in the space and added little light. The faux beam visually separated the kitchen from the living room.
The kitchen lacked adequate counter space for Leslie's baking and was missing functional cabinet storage for all of her baking supplies. The fridge opened up in the middle of the room and the cooktop in the center of the island prevented anyone from gathering round. The only entrance to the laundry room and half bath was through the kitchen. These clients entertain large groups of people often, and the existing kitchen layout did not provide an adequate space for guests to gather and move comfortably.
It was clear that a change was long overdue.
Solution
In order to create a space that met John and Leslie's needs, the Thayer team designed a new, functional layout. The original double ovens and cooktop were replaced with a new range, strategically relocated to the wall facing the atrium. This offered a stunning view while cooking and an abundance of countertop space. The fridge was moved to the sink wall, providing ample landing space. We left the island clear of any appliances in order to allow a large, clear work space for Leslie's baking and allowing a gathering space for guests. We also reconfigured the laundry room's entrance and layout and added a walk-in pantry.
Our remodel team removed the faux beam, after determining it was not load-bearing, creating a more cohesive space between the living room and kitchen. To enhance natural light in the space, we enlarged the existing window over the sink and added windows on either side of the new range location to mimic the existing atrium windows. We also enlarged the opening between the dining room and kitchen and added a new window in the walk-in pantry.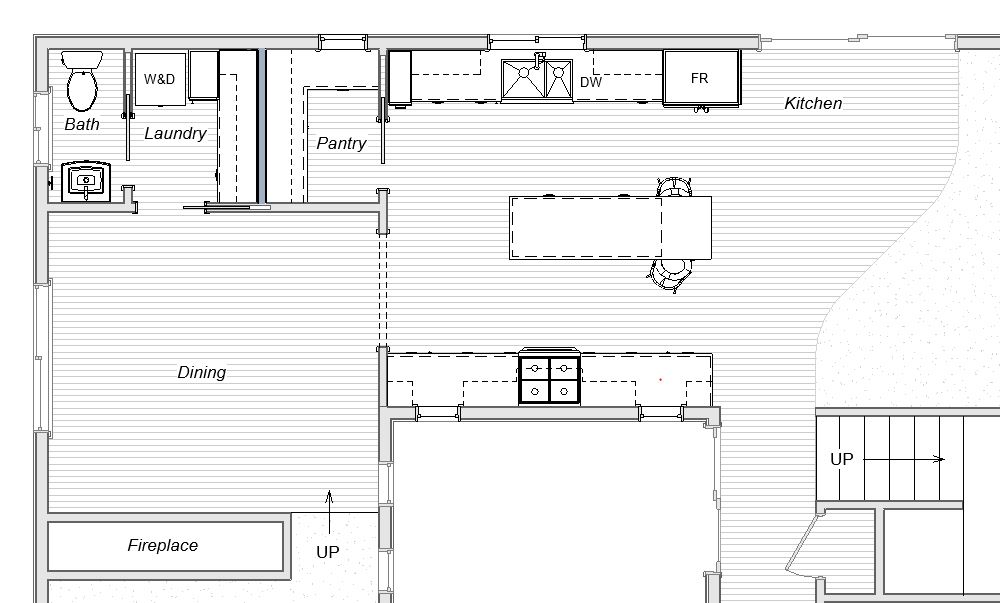 Renderings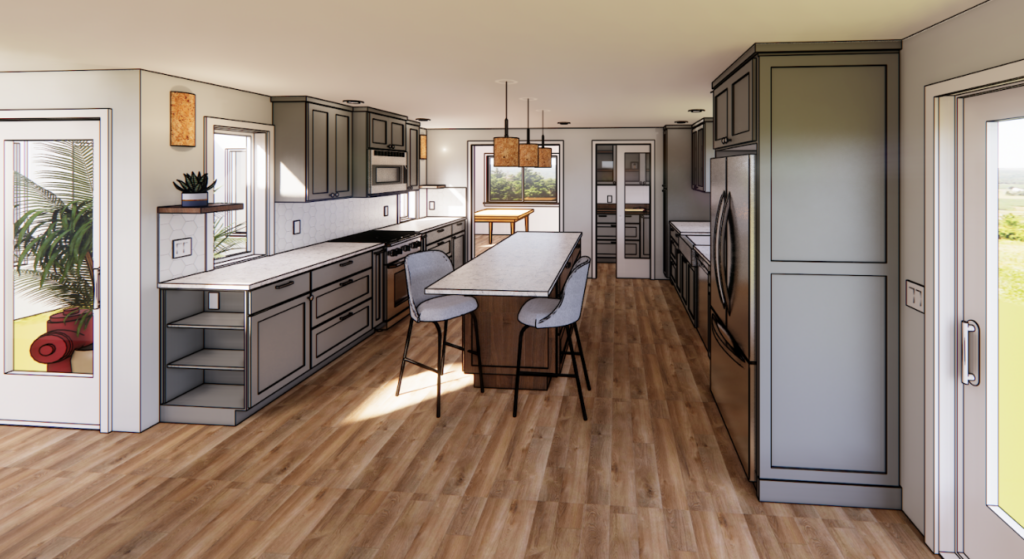 Results
The once dark and cramped kitchen is now a spacious culinary haven, bathed in abundant natural light. It's the ideal space for John and Leslie to indulge in their passion for baking and entertaining with an enhanced beautiful view to their atrium. With a design that encourages flow and openness, this kitchen is more than just a place to prepare meals; it's a warm, welcoming hub for bonding with friends and family for years to come.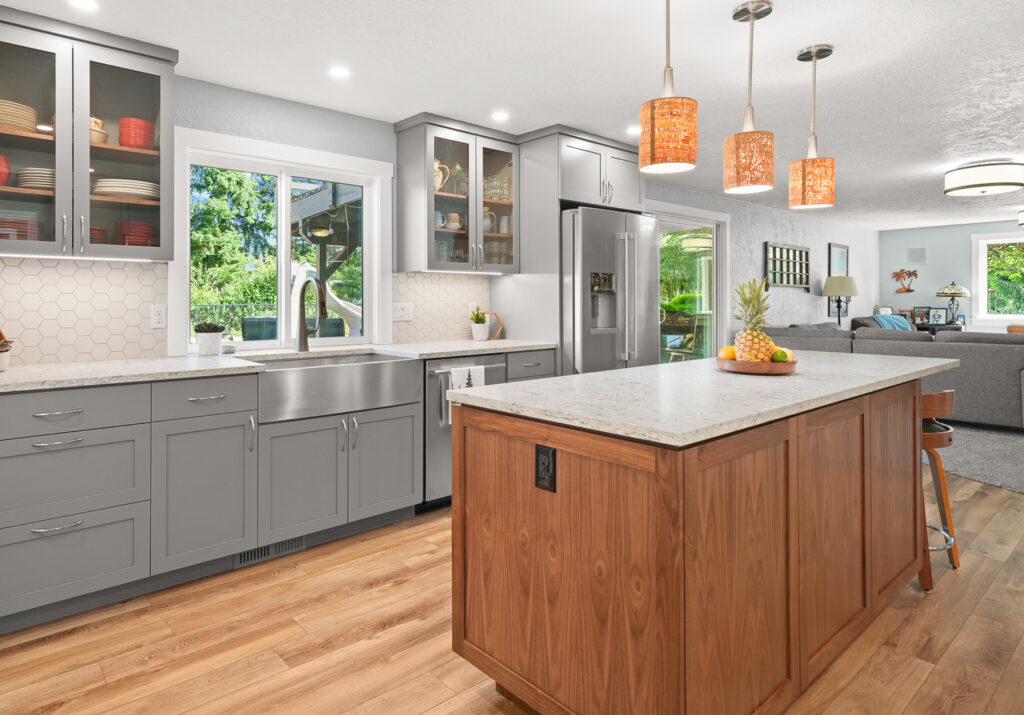 Ready to love your kitchen again?
Contact us today to get started on your own custom kitchen remodel project.