Whole Homes and Additions
Other Services
Historical Home Remodeling
Outdoor Spaces
ADU / In-Law Suites
Universal Design
Seismic Retrofits
Custom Cabinetry
Energy Efficiency
Sustainable Building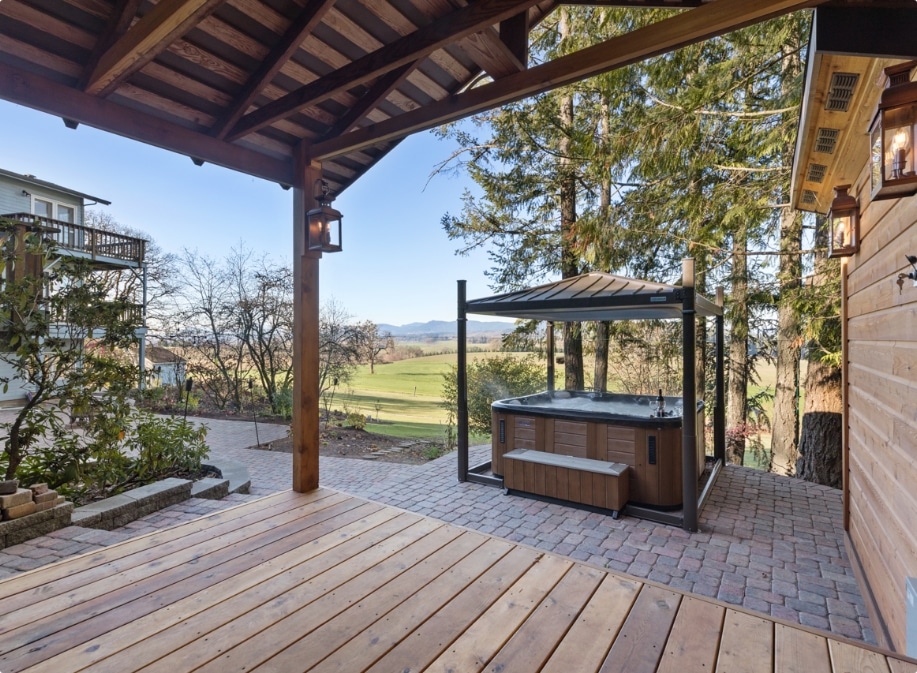 Andrea Allen Philomath, Oregon Kitchen Remodel

We hired Jared and his team to complete a full kitchen remodel. From the very beginning, Jared was approachable and open to our ideas, yet not afraid to offer suggestions based on his own experience and expertise. He [patiently!] worked with us during the design phase and completed the project on time. Communication from everyone involved was fantastic—something that is often hard to come by in the contracting world. Jared's attention to detail goes above and beyond, and it is obvious he takes pride in his work. I would easily and enthusiastically recommend Thayer Design Build to anyone looking to have work done in their home.

Jason Thurber, Corvallis, Oregon Kitchen Remodel

Jared and his team just finished the first phase of our remodel, and I can't imagine a better remodeling experience! Jared did an amazing job communicating what would be happening and when it would happen; his team did a superb job keeping on top of dust control and daily cleanup (making the house livable as possible); his subcontractors did excellent work; and the whole project was over-delivered in terms of schedule and quality of work. We would absolutely recommend Thayer Design Build and Jared to anyone and we'll definitely use them for the next phase of our remodel!
Dr. Aleksandra Sikora, Albany, Oregon Basement Remodel

The Thayer team was fantastic! We had a big open-ended project and they helped us in all aspects of it, including design, materials, lighting and cost trade-offs. And most importantly, they provided high-quality construction. This team communicated strategically and tactically every step of the way.
Marie Campbell, Corvallis, Oregon Kitchen Remodel

Thayer Design Build did a complete remodel of our kitchen, making it much more efficient to use and beautiful as well. Everyone involved was very professional, respectful of our home, and friendly. The work is top quality. The online calendar made it easy to follow the work schedule.
R.F., Corvallis, Oregon Basement Remodel

Jared and his team did a wonderful job on our basement remodel, and we are so grateful. The communication was top notch. He took the time to educate us as he went, and listened to all of our needs and concerns. The suggestions he made were intelligent, within budget, and made the finished project so much better. All construction has setbacks, but Jared and Joe were so on top of every detail that when small things did come up that they were dealt with easily, succinctly and quickly. We never fell behind, nor did we see huge change orders rolling in. We are so impressed with Jared's craftsmanship, honesty, approach and professionalism, and would recommend him for any size project. He is worth every penny.
Sue Long, Corvallis, Oregon Bathroom Remodel

I really enjoyed working with this team of professionals. Everything was broken down from the beginning, so the project was organized and had timeframes on every part. There was a website to make choices from—I could even do that from Africa! They were efficient and if something did not go as planned, they drove over to stay on schedule. And stay on schedule they did! I truly believe that the systems and tools and conscientious nature of the owners make this business a total success.

Cristina O., Corvallis, Oregon Exterior Remodel

Jared took the time to walk through and understand the issues with our home. He was not in a hurry. He was empathetic and responsive. He provided a realistic estimate, despite the uncertain circumstances, and was straightforward with us about what was needed. He communicated this very well. His team was extremely professional and worked to ensure the job was done well, despite the weather (most of our work was exterior).
Design Perspective Interior Design, LLC, Corvallis, Oregon Home Remodeling

I've had the pleasure of working with Jared and his team at Thayer Design Build since August 2017. They are very good with communication, not only with clients, but everyone they work with. Thayer has a wonderful attention to detail, from the initial consultation to the completed project. The beautiful, quality craftsmanship of their finished projects speak for themselves.
Kathy S., Corvallis, Oregon Basement Remodel

Thayer Design Build recently completed a basement refresh for me and I was very pleased with the results. There were several aspects of the experience that were remarkably positive. Both Jared and his partner/wife were very responsive to phone, email, text and many questions. One of the most delightful aspects of working with Jared was the creativity and artistry he contributed to the design of the project. What I proposed was a fairly standard (read: bland) basement project. Jared suggested some design changes that really made the space not only functional, but special and unique as well. I would recommend Thayer without reservation and should any remodeling or construction needs arise, I would happily work with them again.
Cathy M., Corvallis Home Improvements

Jared and his team were awesome to work with. Even though my project was on the small side, they explained things very well and got the job done in good time. I would definitely hire them again!
Arthur M., Corvallis, Oregon Kitchen Renovation

Professional and incredible remodel of our kitchen. It is now much more open and has fantastic custom cabinetry. The granite countertops are seamless, as is the undermounted triple sink. All cabinet doors function better now than before, and Thayer's team was flexible to details and changes.
Ready to get started?
Contact Thayer Design Build for your no-obligation consultation.