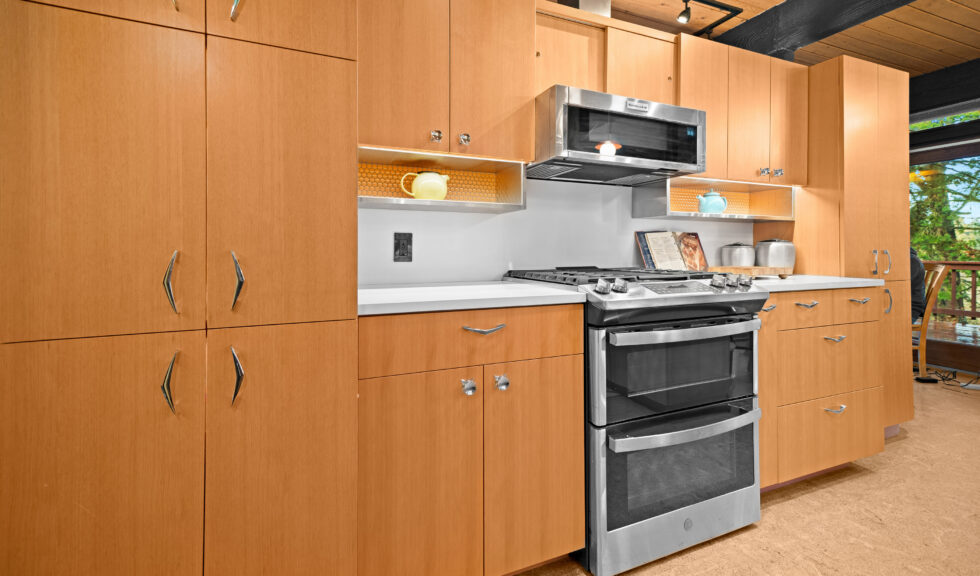 We all have different lifestyles, and our kitchen's designs should reflect that. You are the master designer when it comes to your kitchen—no one else can say what works or looks best for you. Whether you're hosting dinner parties or trying to get out the door quickly each morning, designing a kitchen that works with your lifestyle is essential.
So, where to start?
Here are some tips and ideas to help you create a kitchen that fits your daily rhythm and reflects your personal style!
Consider Your Kitchen's Needs
Before laying out the kitchen floor plan, consider your needs and the demands it will be expected to meet. Assess the tasks that you frequently do in the kitchen – chopping food, boiling water, grilling or baking, etc. This can help inform what types of appliances you should purchase. You may want a gas stove for convenience or an induction stove for precision cooking. You may also need to consider how often family and friends come over, as this could determine how many people you will need to be able to accommodate.
For the storage of cookware and other kitchen items such as knives and whisks, think about the layout of the counter space and cabinets. How much cabinet space do you need? Are deep drawers best, or would open shelves be easier to access? Consider both functional storage and accessibility when planning your kitchen design.
Another important factor to consider is whether you'll use the kitchen primarily for cooking or entertaining. If cooking is your primary purpose, then floorplan design should prioritize prep space near the stovetop, with plenty of shelf room for utensils and equipment. But if entertaining is more important, floorplan design might prioritize work surfaces to accommodate several guests working side-by-side in the kitchen.
No matter what type of lifestyle one leads, there are solutions that can fulfill any need when designing a kitchen. After assessing your needs, it's time to think about how your family's lifestyle and preferences will influence the design of your new kitchen.
Think About Your Family and Lifestyle
When designing a kitchen that fits your lifestyle, it is important to consider the needs of your family. Lifestyle considerations like entertaining guests, having space for multiple chefs to cook together, or the ability to accommodate certain appliances or equipment can make or break the design of your kitchen. If you regularly entertain large groups, you may want to prioritize counter space and open floor plans for easy socializing. If you are an avid home cook, you may want to prioritize storage space for all your favorite pans, ingredients, and equipment. Families with children may need additional safety features such as anti-scald fixtures on sinks and rounded counter corners.
Similarly, how you use your kitchen will help determine the design. Are you someone who cooks dinner every night for the family? Do you have picky eaters? Do you have specific dietary restrictions that require specialized appliances? Taking these into account when considering a kitchen layout can prove extremely helpful down the line.
It is also important to consider the type of look and feel you wish to convey in your kitchen. Are there particular colors, materials, or finishes that would create the atmosphere that best suits your family's lifestyle? The colors and finishes you choose should create an environment that makes people feel relaxed and comfortable but not overwhelmed by clutter or a lack of organization.
No matter what lifestyle considerations need to be taken into account when designing a kitchen, thoughtful planning is key, and always consider how any changes might impact the overall flow of the room. How To Design A Kitchen That Fits Your Lifestyle is the next step in this process – stay tuned for more tips and ideas!
How to Design a Kitchen That Fits Your Lifestyle
Designing a kitchen that fits your lifestyle is an essential part of any home design project. It's not just about considering aesthetics or decorating trends; it's about personalizing the space in such a way that it aligns with how you will use it. Whether you're starting a new home or remodeling, working with interior design services, like Corvallis Interior Designers, can help you create a space that is both functional and stylish.
When planning out a kitchen, take time to consider the details that will make cooking and other activities easier, taking into account the amount of storage you'll need, whether you entertain often, and any special accessories or tools you'll want close at hand. Corvallis custom kitchens can be tailored to fit your unique lifestyle and preferences, from practical elements like appliances and storage space to inspiring decors like elegant lighting fixtures and sculptural objects.
The more efficiency-based approach prioritizes practical aspects like storage space and maximizing functionality, whereas decor-savvy options involve adding meaningful touches that reflect your style and personality. Corvallis interior designers can help you strike a balance between practical elements and inspiring decor to create an inviting atmosphere that works for your living habits and preferences. Whether it's for a new home or remodeling project, residential design should reflect the lifestyle of its clients.
On the other hand, if you're looking for something less demanding from a functional standpoint yet still stylish and unique to your lifestyle, then adding decorative accents can be an attractive option. Consider obtaining artwork or prints of places you've been, pottery or dishware from your travels, and family photos to add warmth and personality to your space.
When designing a kitchen for your lifestyle, it's essential to consider both its primary function and its aesthetic features. Working with Corvallis interior designers can help you create a space that is both practical and stylish, tailored to fit your unique needs and preferences. Contact us today to start your kitchen design project.
Choose Appropriate Materials and Colors
Choosing the right materials and colors for your kitchen is essential to creating a space that fits your lifestyle. Different materials and colors can lend themselves to different aesthetic styles, and selecting the best ones for your kitchen depends on how much time you spend cooking, entertaining, or just enjoying the room.

When it comes to materials, you want something that's both durable and easy to clean. Hardwood flooring is a classic option that will hold up over time and provide a more inviting look than tile or linoleum. For countertops, natural stones like marble or granite are often the most popular choices, but if you're looking for something with a bit more color, then consider quartz or laminate options. Stainless steel appliances have become increasingly popular for their stylish look, though if you're concerned about fingerprints showing up easily, ceramic appliances may be a better choice.
As for colors, keep in mind the overall theme of your kitchen when selecting the wall color and accents. Do you want a modern feel with whites? Or perhaps something more playful with bold blues? Whatever you decide on should complement the materials selected, and make sure to avoid overcrowding the walls with too many bright shades. Neutral tones can also lend themselves well to creating an inviting atmosphere while allowing you to add splashes of vibrant colors later on through art pieces or accessories.

Once you've chosen the right materials and colors, it's important to lay out your kitchen space correctly so that all of these pieces come together harmoniously. The next section will discuss important considerations for laying out your kitchen space, so don't miss this important step!
Lay Out Your Kitchen Space
The layout of a kitchen is a critical part of designing one that fits your lifestyle. When you think about how you want to organize your space, it's important to think through the "work triangles" so that each person involved in the process has easy access to the necessary appliances and tools. You'll also need to decide whether you want to go with an open floor plan or a more traditional closed-off design.
Going with an open floor plan leaves the space open and airy, but there can be drawbacks depending on your lifestyle. For instance, if you have young children, then keeping the kitchen contained might be the better option. But for those who frequently entertain guests and enjoy more of an interactive feel as everyone moves about in their workspace, an open-concept kitchen is ideal.
On the other hand, a more traditional closed-off design will help reduce noise levels from one part of the house to another, which can help keep everyone content throughout the day. It also provides a sense of comfort that some people prefer when they're cooking, baking, or simply talking while eating family meals.

Both design options can provide an efficient workspace, and whichever one you choose depends on how you want it to fit into your lifestyle. No matter what style you select, proper planning can make sure all elements are taken into account ahead of time and that mistakes are kept to a minimum.
When designing a new kitchen, these two approaches should be thoroughly considered, as well as any additional storage or countertop needs. Whether you opt for an open-floor concept or something more traditional, keeping functionality and entertaining in mind should remain key in order to create a kitchen space that best fits your lifestyle.
Functionality and Entertaining in Mind
When designing a kitchen, it is important to keep functionality and entertainment in mind. On one hand, the kitchen needs to be designed with convenience and practicality in mind. It should be laid out in such a way that workflow from one job to the next is streamlined and efficient. Cabinets should be organized in an intuitive way for easy access to essential items and appliances should be chosen for their energy efficiency and effectiveness.
On the other hand, entertainment should also be an important factor. The kitchen should be designed to accommodate people gathering together to share a meal or conversation. Counter space should be ample enough for people to mingle around while snacks are being prepared, but the layout shouldn't sacrifice needed counter space and work areas used solely for food preparation. The kitchen should also have adequate seating so guests can enjoy visiting with each other while meals are being cooked or served.
The key is striking a balance between function and form, making sure that the kitchen is both efficient for cooking or baking and inviting for hosting friends and family. With this in mind, it's time to choose a kitchen theme, furnishings, and decor for the finishing touches on your perfect space!
Choose a Kitchen Theme, Furnishings, and Decor
When it comes to designing a kitchen that fits your lifestyle, choosing the right theme, furnishings, and decor can be a challenge. It is important to pinpoint the vision you have in mind before you start searching for items that reflect it. For instance, if you prefer a more formal style, you should consider pieces like granite countertops and upholstered chairs. Conversely, if you lean more toward a relaxed country vibe, pick natural-wood furniture with floral accents.
Another critical aspect of furnishing your kitchen is selecting materials and finishes for cabinets and countertops. Some popular choices include stainless steel, tile, laminate, stone, and wood. Each material has its advantages and disadvantages; while the tile may have a more attractive look, it tends to be more expensive than laminate. On the other hand, laminate will hold up better against scratches and wear over time.

Additionally, appliances should also be considered when selecting decorative elements for the kitchen. From refrigerators and ovens to blenders and microwaves, there are plenty of options available on the market. It's important to choose appliances that fit seamlessly into your kitchen's design scheme without sacrificing functionality and quality—plus lower utility bills!
Finally, don't forget about accessories that can bring even more flair and personality to your space. Consider purchasing some colorful rugs or hanging artwork featuring your favorite things. You could also opt to line shelves with cookbooks that offer inspiration for meals or display potted plants for an extra bit of greenery.
The best way to start designing a kitchen is by determining what kind of atmosphere you want to create, then filling it with pieces that fit that vision perfectly. With these tips in mind, you'll be sure to cook up an impressive style all your own!
Now that you have chosen the theme and furniture for your kitchen, the next section will discuss current trends to consider as you navigate designing a modern space that fits your lifestyle.
Current Trends to Consider
Current trends in kitchen designs may be worth considering before undertaking a remodel. Whether you plan to make significant changes or just a few updates, knowing what's popular and on-trend can help your finished room look polished and current.
Two of the biggest current design trends to consider are warm materials and smart storage, both of which bring huge benefits to small kitchens. To evoke warmth and create a cozy atmosphere, wood cabinets, brass accents, and terrazzo countertops are great options. Smart storage is especially meaningful for small spaces; ways to add extra storage include narrow pull-out shelves, organizational racks that hang from existing upper cabinets, roll-out pantries, and more.
For those who prefer even bolder design statements, maximalism is making waves in 2020 thanks to bright colors and unexpected combinations. From lime green cabinetry and pink tiled walls to mixed metal fixtures, there's no limit to what can serve as an edgy yet attractive statement piece in your kitchen.

Whether you decide to stay simple with modern or classic touches or go all out with a maximalist approach, understanding current trends can help you create a refreshed space that reflects your style.
Now that you have an idea of what kind of design will work best for your lifestyle, it's time to think about budget and appliances – the tools you'll need to turn your dream kitchen into reality.
Budget and Appliances
Designing a kitchen that fits your lifestyle is no small undertaking. Before you get started, you need to make sure you have an accurate budget in place. Setting a budget will prevent any surprises down the line. It may be difficult to stick to at times, but it's important to remember your limits when it comes to what you can afford so you don't overextend yourself.
In keeping with budgeting considerations, appliances are one of the largest investments in any kitchen. While some might argue that upscale appliances make for a higher-end space, there is also plenty of good-quality, more affordable options on the market these days. Whether you're replacing an existing appliance or adding one to the room from scratch, spend some time researching the most reliable and affordable options before setting your sights on something too extravagant or pricey.
In terms of functionality versus style, both sides can be argued for covering all needs and want for a kitchen equipped with appliances. On one hand, a functional appliance does not necessarily have to be aesthetically pleasing—it simply needs to perform optimally and yield reliable results. On the other hand, it's understandable to yearn for a certain level of style and modern convenience in order for a kitchen to feel complete.

When it comes down to deciding between aesthetics and functionality, one thing is clear: the importance of balance should never be overlooked. Finding a balance between those two preferences will ensure your kitchen suits your lifestyle without breaking the bank and allow you to prioritize important investments over frivolous ones without making concessions on quality.
With budgeting considerations in mind, let's move on to how lighting can help elevate your kitchen's aesthetic and how small touches can bring out its character.
Lighting and Small Touches
Lighting is an essential part of any kitchen. It ensures the tasks you need to perform are done safely and effectively, and it adds to the overall ambiance of the space. While creating a desirable atmosphere is important, it is also important to select lighting that also allows you to complete tasks safely and adequately see into cabinets and other dark corners.
Natural light is an excellent way to brighten up a kitchen and make it a more inviting space. The addition of windows and/or skylights can help bring natural light into your kitchen as well as reduce energy costs. If your kitchen lacks natural light, artificial lighting can be used to supplement your needs. Incandescent bulbs, LED lights, or fluorescent lights can all provide the necessary brightness for your kitchen space.
Chandeliers can add a sophisticated flair to any kitchen; however, if your kitchen is small, opt for lights that are close to the ceiling or wall-mounted sconces – this will help create the illusion of airiness in the room. To prevent the light from being too harsh, include dimmer switches so you can adjust the light intensity according to what activities are being undertaken in the room.
In addition to lighting considerations, small details such as hardware and furniture also contribute significantly to designing a kitchen that meets your lifestyle needs. Updating handles on cabinets and drawers is an easy way to modernize existing elements while adding personal touches like plants or artwork will add character and visual interest to the space. If you are looking for more permanent ideas, consider updating countertops or splashbacks with hexagonal tiles or colorful mosaics – these will add texture and depth without overwhelming the space as larger fixtures might do.
Ultimately, when it comes to lighting and small touches in a kitchen remodel project, it's best to balance both aesthetics and function while keeping your vision in mind. Prioritizing good design over popular trends will ensure that your kitchen remains relevant no matter how much time passes since its completion.
Design Your Dream Home with Our Professional Build Design Company
At Thayer Design-Build, we are committed to providing exceptional home design services in Corvallis and beyond. Our team of professional designers has the experience and expertise to help you bring your dream home to life.
Whether you're looking to start a new project or browse our past projects for inspiration, our showroom is the perfect place to get started. We pride ourselves on offering the highest quality of advertising services to our clients and advertisers alike.
Our team will work closely with you to ensure that your vision is brought to life with the utmost care and attention to detail. So, if you're ready to embark on your next home design project, come visit us and see why we're the premier build design company in Corvallis.