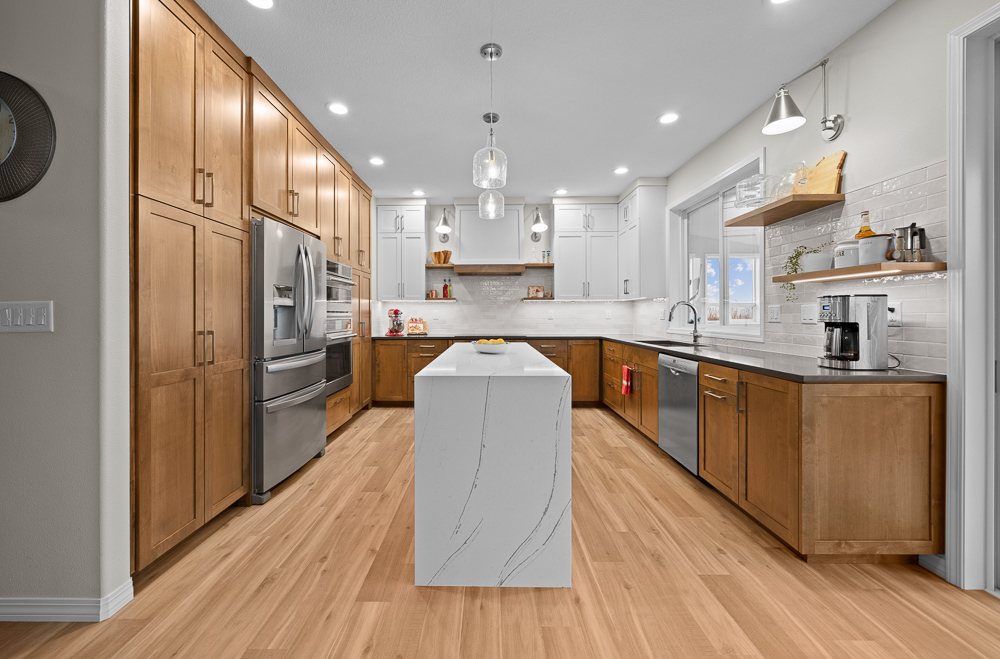 Design-build remodeling has grown in popularity in recent years, and it's not difficult to see why. Unlike traditional building, the design-build concept combines design and construction services into a single, integrated process, resulting in many advantages for the homeowner looking to remodel. Here are some of the advantages of design-build remodeling.
Design-Build is Faster
One of the biggest advantages of design-build remodeling is that it is faster. With this model, communication is streamlined, and design and construction issues are made more quickly. This results in a smoother and quicker transition from design into construction, which is especially important for homeowners who want or need to get their projects done as quickly as possible.
Better Cost Controls
Design-build remodeling offers better cost controls. Since homeowners work with one company for both design and construction services, the need to work with multiple contractors, such as an architectural firm and a construction firm, are eliminated. When multiple parties are involved, the risk for misunderstandings, miscommunications, and expensive changes can result in higher costs.
In addition, the design team has insights on product availability, current costs, and delivery times. They know which products are best to include in the design to meet the homeowner's budget and timelines. Without this knowledge, delays and additional costs can accumulate. With design-build remodeling, homeowners have a better understanding of the overall costs of their project and can make informed decisions about their budget based on this information.
Open, Honest and Collaborative Communication
Because the designer and remodeler work together from the beginning of a project, each has a better understanding of the other's needs and goals, resulting in a more efficient and effective process. The designer and remodeler collaborate to identify potential design issues early on, and can resolve them before they can become bigger problems to ensure that the final product meets the homeowner's expectations, timeline and budget.
Open and honest communication is also important between the remodeling firm and the homeowner. When decisions need to be made or unexpected issues arise, they are addressed immediately to avoid delays, misunderstandings and complications. Each project is assigned a project manager to serve as the point of contact between the homeowner and the remodeler. This person updates both the homeowner and the company on the day-to-day progress of a project.
Smoother Scheduling
A design-build firm's teams have worked together on multiple projects and so both sides understand what needs to happen when. Schedules for selections, delivery, and completion can be more easily created and fulfilled, and fluidity between departments is executed seamlessly. In addition, both teams have an in-depth knowledge of the client and the project and can work together to accomplish a single goal.
Expertise
Your remodeling firm has an established in-house team of designers, project coordinators and project managers who can offer the advantage of thinking both like a designer and builder. Understanding how design decisions affect construction or budget considerations is a key indicator of an experienced design-build firm.
With numerous, successful projects under its belt, a design-build firm has encountered and learned to navigate most construction issues, and can address and resolve them. And they likely have done similar projects and can use that experience to enhance the current project.
Greater Accountability
With design-build remodeling, the homeowner has a single point of contact. The remodeler assumes all responsibility for the project, making it easier for the homeowner to hold the design-build company accountable if issues arise. In contrast, with the traditional design-bid-build model, homeowners have to navigate through multiple companies or contacts, and must assume responsibility for coordination themselves.
What is Design-Bid-Build?
Design-bid-build is a method whereby homeowners contract with a designer and the builder separately. The homeowner engages with the design firm or architect who delivers completed design documents. The homeowner then puts those designs out for bid with one or more remodeling companies. The designer and remodeler have no contract between them; everything runs through the homeowner who assumes the risk.
The design-bid-build process may offer the most competitive pricing, since remodelers must provide competitive bids to win the job. However, the disadvantages may outweigh the cost savings. Disadvantages of the design-bid build method include a longer timeline, especially if change orders are required; inability to finalize budget numbers; potential conflicts between the design and build teams, and higher overall costs as a result.
The homeowner must pay for design and construction services separately, and if change orders need to be made to alter the construction drawings, the homeowner must coordinate taking the drawings back to the designer for updates and then back to the remodeler again. The time and effort involved, frustrations, and extra costs can add up quickly.
There may be a potential issue with the quality of work as well. A contractor may choose to use low-cost subcontractors in order to reduce costs and win the bid. The quality of the final product may compromise the project and lead to disputes or potential legal action between the homeowner and the contractor.
Design-Build vs. Design-Bid-Build
The biggest differences between design-build and design-bid-build are the relationships and responsibilities. With design-build, the design and build teams work under the same contract toward a common goal simultaneously—to look out for the best interests of the client. In design-bid-build, the homeowner contracts with the designer and remodeler independently and the project must progress in sequences. Design-build remodeling removes the responsibility and risk from the homeowner and places it onto the remodeling firm. This is especially important if a remodeling project is large or complicated.

Related: 10 Reasons Why the Design-Build Delivery Method Works
For Unmatched Service and Quality for Corvallis-area Remodeling, Choose Thayer Design Build
Thayer Design Build is a family-owned design-build remodeling firm serving the communities in and around Corvallis, Oregon with a mission to create beautiful homes using our model of unmatched service and exceptional quality.
We'll listen to your ideas for your home, then use our design-build process to put your plans into action. You'll work closely with our design team to create the layout and features you want. Then you'll watch them come to life as we turn the plans into reality. You'll end up with a home you'll love for years to come.

When you choose to remodel, choose Thayer Design Build. Contact us at 541-714-3620 for a no-obligation consultation and tell us about your reasons to remodel now.